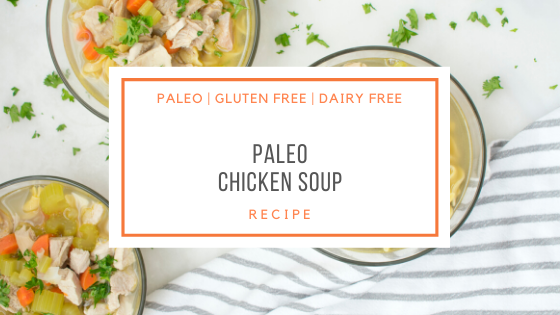 Its Cold and Flu season and what better way to get through it than making and eating homemade Chicken Soup. Here is a recipe that will be sure to give you all the immune support that you may need to get you back on your feet.
It's not just an old wives tale! Chicken soup may really have some magical healing properties to sooth and subdue a number of different ailments.
It has been shown to inhibit the build up of (neutrophils) white blood cells in the throat, nasal passages and lungs that can cause inflammation, stuffy nose, sore throat, phlegm. This is important because while neutrophils kill pathogens, their antimicrobial products damage host tissues.
Chicken soup has also be used in this capacity in cases of asthma, emphysema, and even accidents where swelling occurs, to ease inflammation of targeted areas!
BREAK DOWN OF CHICKEN SOUPS HEALTH BENEFITS
•Chicken Broth – Hearty broth contains vitamins, minerals and some fat. The warm liquid can help to improve upper respiratory tract symptoms by providing hydration and stimulating nasal clearance.
•Carrots, Celery, Onion – These vegetables contain vitamin A, C and other antioxidants that have been known to help build a strong immune system and fight off viruses. They may help the body recover from illness more quickly.
•Chicken – The star of the dish is packed with protein, which supports the immune system.
•Noodles – High in carbohydrates, they will help you to feel full and satisfied.
Here is a quick and easy Recipe to make your own home made Chicken Soup.
This recipe will take about 1 hour to complete and will yield approximately 5 quarts of soup
EQUIPMENT NEEDED
8 qt. stock or sauce pot
Knife
Cutting board to cut veggies
Bowl for transporting veggies to stock pot
Spoon for stirring
Bowls for serving
Spoons for eating!
INGREDIENTS
4 to 5 stalks of Celery, rinsed and diced

1 medium onion, diced

1 to 2 cloves fresh Garlic pressed or chopped finely

1 1/2 Tablespoons

Avocado oil or Coconut oil

1 container of Snackin' Free Macaroni Noodles

2 – 32 oz containers of store bought Organic Free Range Chicken Broth (I use Imagine brand organic low sodium Free Range Chicken Broth available at Snackin' Free)

1 -16 oz container of Chicken Bone Broth

(I use Snackin' Free 16 oz. Bone Broth)

2 to 4 Organic Carrots, rinsed and diced or sliced.

1 or 2 large Organic Turnips

(alternately you may use sweet potato or white potatoes)

1 1/2 teaspoons Poultry Seasoning (I use Simply Organic brand poultry seasoning available at Snackin' Free)
Salt and Pepper to taste


Alternately y

ou can use or add any other veggies you feel you would like to include: tomatoes, beets, squash,

pumpkin, Brussel sprouts, cabbage, any greens such as spinach or kale. You want to make your veggies

bite sized so you don't burn your mou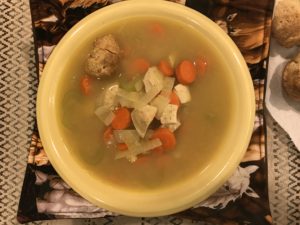 Begin by adding the oil to the stock pot placing it on the stove top and heating on medium low. When hot add celery and onions, cook until transparent. Add garlic toward the end so you don't burn it.
Add the Chicken broth and Bone Broth to the Celery and onions and heat over medium heat until it starts to simmer. Add the
root vegetables and simmer until they are tender, try not to boil as this may destroy some of the nutrients in the soup. At this point you will want to add the seasonings to taste. Be sure to give it a few seconds and a good stir before tasting to insure that they are incorporated well. If you choose to add softer vegetables such as cabbages or squash or any greens such as spinach or kale be sure to add those last so you don't over cook the softer veggies. They will only take about 5 minutes to cook. Dish out and enjoy!