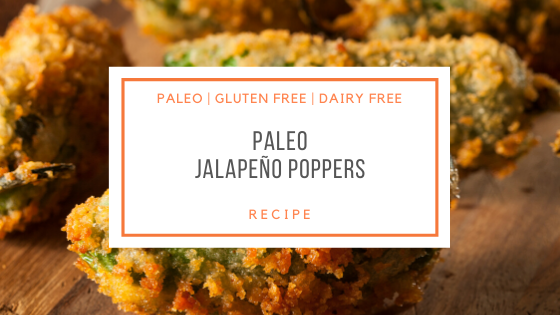 Ingredients
7-10 jalapeños

Avocado Oil
Filling Ingredients
4oz. Daiya Creamcheese

1 cup shredded sharp cheddar cheese substitute (Daiya or Parmela Creamery)

3 strips cooked uncured bacon bits

1 tsp garlic powder

1 tsp of onion powder
Bread Crumb Ingredients
3-4 eggs

1/2 – 1 cup arrowroot powder

1 package Snackin' Free Seasoned Bread Crumbs
Instructions
Cut jalapeños in half, remove seeds and flesh from the inside.

Cream together the ingredients for the filling until well combined. I like to use my stand mixer for this so that it's very well combined, but you can do it with a hand mixer too. If you mix this by hand just make sure you get it very well mixed and that it's creamy.

Using a spoon fill each jalapeno half with the cream cheese mixture. The filling should be overflowing a bit and not flattened.

Put eggs and bread crumbs into separate bowls. Dip jalapeños into egg was and dust with arrowroot powder. Let dry for about 10 minutes.

Dip jalapeños into egg wash again and then into bowl of bread crumbs. Make sure the jalapeños are fully coated with the bread crumbs and set on parchment paper.

Fill frying pan with avocado oil until about 1/2″ deep, heat the oil until ready for frying (a drop of water cause it to bubble).

Fry each jalapeño popper turning over half way so both sides are golden brown.

Let cool for about 10 minutes and serve with Snackin' Free Ranch dressing.